Our History
The Cowley County Health Department was originally established in 1941, being among the first eighteen health departments formed in the State of Kansas.  In July, 1946 the cities of Arkansas City and Winfield joined with the county to form the City-Cowley County Health Department.
___________________________________________________________________________
Harmful Algal Blooms (HAB) in Kansas – Toxic Algae
Some blue-green algae produce toxins that could pose a health risk to people and animals when they are exposed to them in large enough quantities, yet the mere presence of blue-green algae is not a cause for alarm. Health effects could occur when surface scums or water containing high levels of blue-green algal toxins are swallowed, through contact with the skin or when airborne droplets containing toxins are inhaled while swimming, boating, and skiing.
Blue-green algae can be considered as simple aquatic plants that exist naturally in marine waters, rivers, lakes, and ponds. Despite their name, blue-green algae are actually types of  bacteria known as Cyanobacteria. When certain conditions are present, such as high nutrient and light levels, these organisms can reproduce rapidly. This dense growth of algae is called a bloom. Some of these blooms are harmless, but when the blooming organisms contain toxins, other noxious chemicals, pathogens, or other  impacts to recreation or economic activities, it is known as a harmful algal bloom.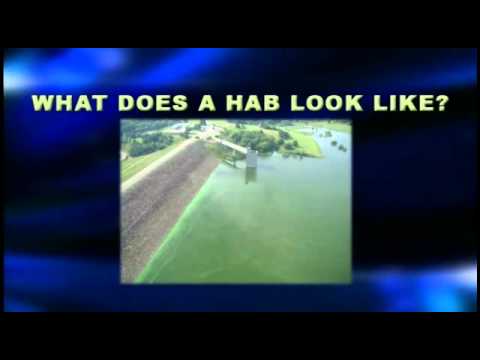 Visit here to report a human illness or death if you think it was related to exposure to blue-green algae.
Visit here to report an animal illness or death if you think it was related to exposure to blue-green algae.
Heat Related Illness (HRI)
The best defense is prevention. Here are some prevention tips:
Drink more fluids (nonalcoholic), regardless of your activity level. Don't wait until you're thirsty to drink. Warning: If your doctor generally limits the amount of fluid you drink or has you on water pills, ask him how much you should drink while the weather is hot.
Don't drink liquids that contain alcohol or large amounts of sugar–these actually cause you to lose more body fluid. Also, avoid very cold drinks, because they can cause stomach cramps.
Stay indoors and, if at all possible, stay in an air-conditioned place. If your home does not have air conditioning, go to the shopping mall or public library–even a few hours spent in air conditioning can help your body stay cooler when you go back into the heat. Call your local health department to see if there are any heat-relief shelters in your area.
Electric fans may provide comfort, but when the temperature is in the high 90s, fans will not prevent heat-related illness. Taking a cool shower or bath, or moving to an air-conditioned place is a much better way to cool off.
Wear lightweight, light-colored, loose-fitting clothing.
NEVER leave anyone in a closed, parked vehicle.
Although any one at any time can suffer from heat-related illness, some people are at greater risk than others. Check regularly on:

Infants and young children
People aged 65 or older
People who have a mental illness
Those who are physically ill, especially with heart disease or high blood pressure

Visit adults at risk at least twice a day and closely watch them for signs of heat exhaustion or heat stroke. Infants and young children, of course, need much more frequent watching.
If you must be out in the heat:
Limit your outdoor activity to morning and evening hours.
Cut down on exercise. If you must exercise, drink two to four glasses of cool, nonalcoholic fluids each hour.  A sports beverage can replace the salt and minerals you lose in sweat. Warning: If you are on a low-salt diet, talk with your doctor before drinking a sports beverage. Remember the warning in the first "tip" (above), too.
Try to rest often in shady areas.
Protect yourself from the sun by wearing a wide-brimmed hat (also keeps you cooler) and sunglasses and by putting on sunscreen of SPF 15 or higher (the most effective products say "broad spectrum" or "UVA/UVB protection" on their labels).
Health Care in Your Hands – About the Health Insurance Marketplace
When the Affordable Care Act was signed into law four years ago on March 23, 2010, Americans began to take their health care into their own hands. The law is already making a difference in the lives of millions of people. There is a new way to get health insurance: the Health Insurance Marketplace. The Marketplace is designed to help you find health insurance that fits your budget, with less hassle. Insurance plans in the Marketplace are offered by private companies. They cover the same core set of benefits called
essential health benefits
. No plan can turn you away or charge you more because you have an illness or medical condition. They must cover treatments for these conditions. Plans can't charge women more than men for the same plan. Many
preventive services
are covered at no cost to you. You can compare all your insurance options based on price, benefits, quality, and other features that may be important to you, in plain language that makes sense. Visit 
healthcare.gov
 for more information. Visit
http://www.insureks.org/index.php
 to learn more about or how to get started in the marketplace in Kansas.
What You Need To Know About Childhood Vaccines: Who & When
Immunizations have had an enormous impact on improving the health of children in the United States. Most parents today have never seen first-hand the devastating consequences that vaccine-preventable diseases have on a family or community. While these diseases are not common in the U.S., they persist around the world. It is important that we continue to protect our children with vaccines because outbreaks of vaccine-preventable diseases can and do occasionally occur in this country.
Kansas Health Matters
"Kansas Health Matters is a one stop source of non-biased data and information about community health in Kansas. It is intended to help hospitals, health departments, policy makers, community planners and members learn about issues, identify improvements and collaborate for positive change."
Traveler's Bed Bug Q & A
---